25 avril 2012
3
25
/

04
/

avril
/

2012
08:43
Living around salterns and having sight on these few inches deep water expanses over saturated by salt, what a delight!
The sun, the wind, the sea water evaporation, the cloud reflections, each moment is different and provokes unique color combinations. It's even more evident at dawn.
Don't you feel a salty taste on your tongue?
Vivre près de marais salins et avoir une vue sur ces étendues d'eaux peu profondes saturées de sel, quel enchantement!
Le soleil, le vent, l'évaporation de l'eau de mer, le reflet des nuages, chaque instant est différent et provoque des combinaisons de couleurs uniques. C'est même encore plus vrai à l'aube.
Vous sentez le sel sur votre langue?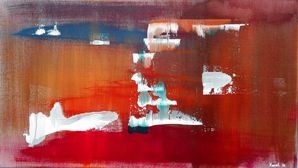 SALTERN DAWN HxL 40x70 FR 04 12 F